Frequently Asked Questions: Here we answer some of the top questions that farmers and other stakeholders ask us.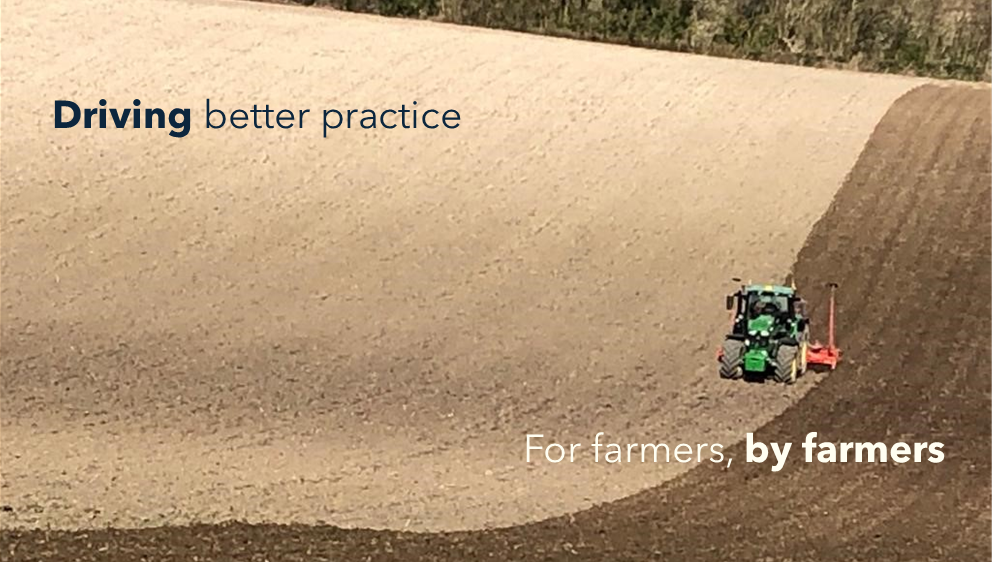 If you have a question which we have not covered here, please get in touch and we will be happy to help.
Why is Poole Harbour important?
Poole Harbour is one of the largest natural harbours in the world. It is renowned and internationally protected for its outstanding landscape, wildlife and fisheries. The harbour is a designated Special Protection Area, Site of Special Scientific Interest, Ramsar site (wetland of international importance) and European Marine Site. Surrounding heathlands are also designated as Special Areas of Conservation and National Nature Reserves, and many other areas are protected as Local Nature Reserves.
Man's activity easily influences the harbour's fragile ecosystem. Our impacts are both direct (like recreational and industrial activity in the harbour itself) and indirect (including upstream development, farming activity and inputs of treated wastewater).
Combined with this, the harbour's narrow exit means river inputs (like excess nutrients) do not readily flush out to sea. Instead, they remain, and build up over time.
Why are nitrates important?
Nitrogen is one of the key building blocks of life. It is in every living cell on the planet; it even makes up part of our DNA. Plants take nutrients like nitrogen (in the form of nitrate) and others, from soil & water and use them to grow new tissue.
Nitrate is water soluble, meaning it can be washed out of the soil by rain. The rainwater then carries it into our rivers and, eventually, our aquifers (natural underground reservoirs) and harbours. Plants in the water environment also use nitrate to grow. However, water habitats have a much lower concentration of natural nitrate, which limits seaweed or algae growth. This creates a natural balance, and other aquatic life can thrive.
How does this affect Poole Harbour?
Poole Harbour's nitrate levels have been building up for many years. Algae here is not limited naturally and grows far more than the environment can cope with. As a result, other aquatic plants can't get the sunlight they need and are choked. In autumn, shorter, colder days mean the algae dies off. Bacteria break down the dead algae, using up oxygen in the water, and suffocating invertebrates and even fish. This kind of ecosystem breakdown is called hypertrophication (literally 'too much food'). It impacts people too; the decomposing algae smells like rotten eggs, or even sewage. Not nice if you live nearby!
Poole Harbour is becoming dangerously hypertrophic, and the Nutrient Management Scheme seeks to address farming's contribution to this. Our scheme is farmer-led, and we support farmers to reduce the amount of nitrate being lost from their soil to begin with. This will help slow down, stop, or even reverse the hypertrophication of the Harbour.
What is a Water Protection Zone?
A Water Protection Zone (WPZ) is a designated area where regulations restrict certain activities, to limit pollution of a named waterbody. These designations are usually a last resort, and are only imposed where other controls (such as voluntary reductions, permits or other regulations) have failed. The Secretary of State for Environment, Food and Rural Affairs (head of Defra) is responsible for designating Water Protection Zones, and the Environment Agency (EA) regulates and enforces them. The EA can impose criminal penalties on those breaking the restrictions.
In the Poole Harbour catchment (rivers and tributaries of the Frome, Piddle, Corfe, Sherford and others), Defra's key concern is high nitrates from farming. This is despite Source Protection Zones, a Nitrate Vulnerable Zone and various Environmental Permits already being in place. National legislation including Farming Rules for Water also restricts farms' legal nitrate losses (amongst other things), but they remain high. As a result, the Government could consider implementing a WPZ for the Poole Harbour catchment, unless rapid voluntary action resolves the issue.
For further information click here>>
How are other sectors reducing nitrate inputs to Poole Harbour?
Farming inputs around 80% of excess nitrate to Poole Harbour. The other key source (around 13%) is wastewater effluent; the outputs from Wastewater Recycling Centres (WRCs), also known as sewage treatment works. In the Poole Harbour catchment, Wessex Water owns and manages this network, with 21 WRCs serving the catchment's population. The company already removes thousands of tonnes of nitrogen every year from waste water through its treatment processes. For example, Poole WRC alone removes 927 tonnes of nitrate per year.
Water for treatment comes from homes and businesses (loos, baths & sinks), as well as wastewater from industry and rainwater from roads, roofs and gardens. When treating wastewater, all water companies must meet strict Environmental Permits, which the Environment Agency sets and enforces. These limit what each WRC is allowed to discharge into rivers or the sea.
In addition, Wessex Water is:
Actively involved with the Poole Harbour Nutrient Management Scheme
Working with EnTrade (a subsidiary trading platform) on a Defra Environmental Land Management Scheme Test and Trial within the catchment.
Removing an extra 9 tonnes per year from a new nitrogen removal plant at Wareham WRC, which will be operational by December 2021.
Using catchment management to offset the level of nitrate discharged from Dorchester WRC. This includes continuing to offset the existing 40 tonnes of nitrate per year of discharges from Dorchester WRC, and the company has committed to reduce nitrate inputs by an additional 51 tonnes per year as a voluntary target across the wider catchment.
The company is also running several investigations to:
Provide greater understanding of the nitrogen and phosphorus contributions from WRCs in the catchment.
Assess discharges and their impact on shellfish waters and climate change within Poole Harbour.
Assess improvements for discharge quality or outfall re-location for Poole WRC.
Examine the nitrogen and phosphorus loads from discharges to Holes Bay, Poole.
Further information can be found in the Drainage and Wastewater Strategy for Dorset.
Why are councils involved in this scheme?
As our population grows, we need more houses. With more houses come more people, and a larger amount of sewage needing treatment in future. Even with tight permits in place and a well-run treatment system, collectively we will still be putting more nitrate into our rivers than is currently the case. In the Solent, this has had such a big impact that Natural England now requires any major housing development to be 'nitrate neutral'. This means developers must pay for environmental improvements which remove as much nitrate as the people living in new developments are likely to put into the sewer system.
'Nitrate neutral development' is now a requirement in the Poole Harbour catchment. Our planning authorities, BCP and Dorset Councils, are taking a pro-active approach together, exploring options which will help them target nitrate reduction strategically. Options they might consider include buying credits through our scheme or buying land to re-wild long term. By doing this, our Councils can use developer contributions to make more improvements which are bigger, better, and joined up, rather than each developer making a small difference here or there.
What is the timeline for the scheme?
Spring 2021
We ran a small trial with 20 farmers from the catchment who road-tested the various concepts of the scheme, as well as using the Environment Agency's Nitrate Leaching Tool (NLT). The trial farmers provided a wealth of useful feedback which is being used to fine-tune the scheme and make sure that it is fit for its purpose.
Autumn 2021
Farm advisors worked with the trial farmers to validate and verify the data gathered by the NLT. They looked at the nutrient balancing of all the farmers involved in the trial, with the possibility of trading surplus nitrogen with Wessex Water. The PHNMS team is also investigating a different Nutrient Accounting Tool for comparison.
Poole Harbour Agricultural Group has worked with the Environment Agency to ensure that the scheme meets all the necessary requirements to be an approved scheme as set out in the Poole Harbour Consent Order Technical Recommendations.
Spring 2022
Progress update meetings were held across the catchment which were well attended by farmers and landowners eager to learn more about the scheme and how they can get involved.
We've hired a Development Manager to drive forward the pilot phase of the scheme.
Spring 2023
Membership opened January-March 2023 for farmers to join the scheme and submit their baseline NLT accounts. These will form the basis of future trading, to calculate reductions achieved in future years.
Autumn 2023
Membership for the 2023/24 farming year is expected to open in Autumn 2023. Dates will be confirmed by the Environment Agency later this summer.
2024
The Environment Agency will review the progress of the scheme in reducing nitrate losses from agriculture.
2030
This is Defra's deadline for agriculture to reach their required reduction in nitrate leaching.
Who can join the scheme?
You can read our eligibility guidelines here. In principle, all land managers who have management control of agricultural holdings above 1ha within the Poole Harbour catchment are likely to be eligible to join the scheme.